In recent years, the meat industry's sustainability conversation has evolved from "what do we do about sustainability" to "how do we measure and report our sustainability progress." As we move into this next phase of our sustainability journey, the United States Roundtable for Sustainable Beef (USRSB) General Assembly meeting has become one of the most insightful events of my year. This year's meeting focused heavily on digging into our measurement and reporting tools while also making sure the industry takes time to reflect on and celebrate wins we've already achieved.
I was able to be present and absorb the learnings from many speakers. Here are my top takeaways from the event:
1. Grazing plans are critical
Before the start of the general assembly, I joined the Beef Industry Sustainability Tour. One of the highlights of the tour was learning firsthand how cattle grazing public lands is critical to the ecosystem. The benefits of this practice range from reducing wildfire threats and controlling invasive plant species to increasing the diversity of plant and animal species in the environment, not to mention the fact that cattle turn land that is not suitable for raising anything else into a valuable source of protein. Well-designed grazing plans ensure conservation of ecosystems while also giving the cow/calf sector credit by quantifying the sustainability work being done.
2. We all need to join the conversation
Attendees at this year's conference came from all the expected groups: cow/calf, feedlot, crop production, packer/processor, NGOs. But there were also retailers and foodservice operators in the room. These individuals readily admit they still have much to learn about beef sustainability and for them, the transparent conversations that took place were extremely helpful. I commend the companies that are sending their sustainability-focused team members. There just aren't enough of these individuals in our conversations yet when you consider the number of companies who have set sustainability goals that they're hoping the beef industry can help them meet. Continued success will mean more transparent conversations with a wider group of stakeholders in the retail and foodservice sectors.
3. We don't have to reinvent the wheel
I had the honor of moderating a panel discussing collaboration in communication. The panelists, Lara Moody from iFEEDER; Amy Skoczlas Cole from Trust in Beef; and Kristi Block from Protein PACT are all working to provide materials that bring our progress in meeting the established USRSB goals to light. A theme among all of the panelists was that there's no need to reinvent the wheel when communicating what is happening with beef sustainability. The work of the panelists' organizations highlights this.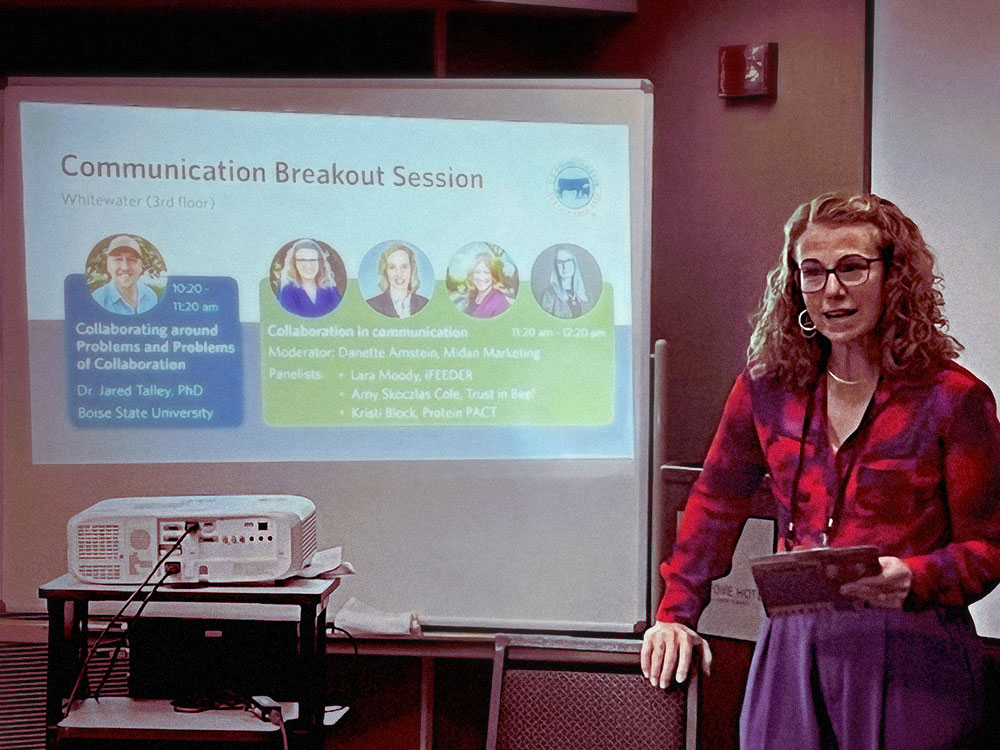 Danette Amstein moderating a panel discussion at USRSB 2023.
4. Technology is refining our processes
At multiple conferences this year, I've noticed the number of sustainable technologies being introduced to the market. Some of these technologies are genetics tools that will drive more sustainable beef production; others give us the ability to track sustainability metrics across industry segments. All of these are important tools for the future of beef sustainability. A panel on blockchain explained how this tool is being used today and offered insight into how, in the future, blockchain could be the basis for carcass sorts on everything from genetics to animal welfare practices to specific efforts around greenhouse gas reduction. Being open to implementing new technologies and effectively communicating their benefits with consumers will be integral to our ultimate success.
The closing speaker, Jack Bobo, charged us to "create the future we want instead of planning for the future we expect." We want a future where we are partners in meeting the sustainability demands of customers and investors while keeping beef at the center of the plate. And we are making great progress in that direction. The groundwork was laid years ago by USRSB and the continued efforts to collaborate and have these big conversations is the best way for us to ensure this future.