Meredith McDuffie has a passion for foodservice. She's spent more than 20 years in the industry, working as an operator as well as in sales, marketing and culinary roles. Her love and knowledge of food trends, back of house operations, restaurant marketing and international cuisine make her an asset to Midan's team and clients.
In this multipart blog series, Midan team members are sharing how restaurants, retailers, distributors, producers and chefs have had to rethink foodservice — and what we believe the meat industry can do to match that creativity to find new ways of doing business.
Working Together to Revitalize Foodservice
For months, COVID-19 has created hurdle after hurdle for the foodservice industry. From closed dining rooms and simplified menus to price increases and the laundry list of safety precautions to protect workers and customers, restaurants continue to fight an uphill battle to fully reopen their businesses. Simple solutions and innovative ideas from packers and processors can go a long way toward helping operators return to solvency.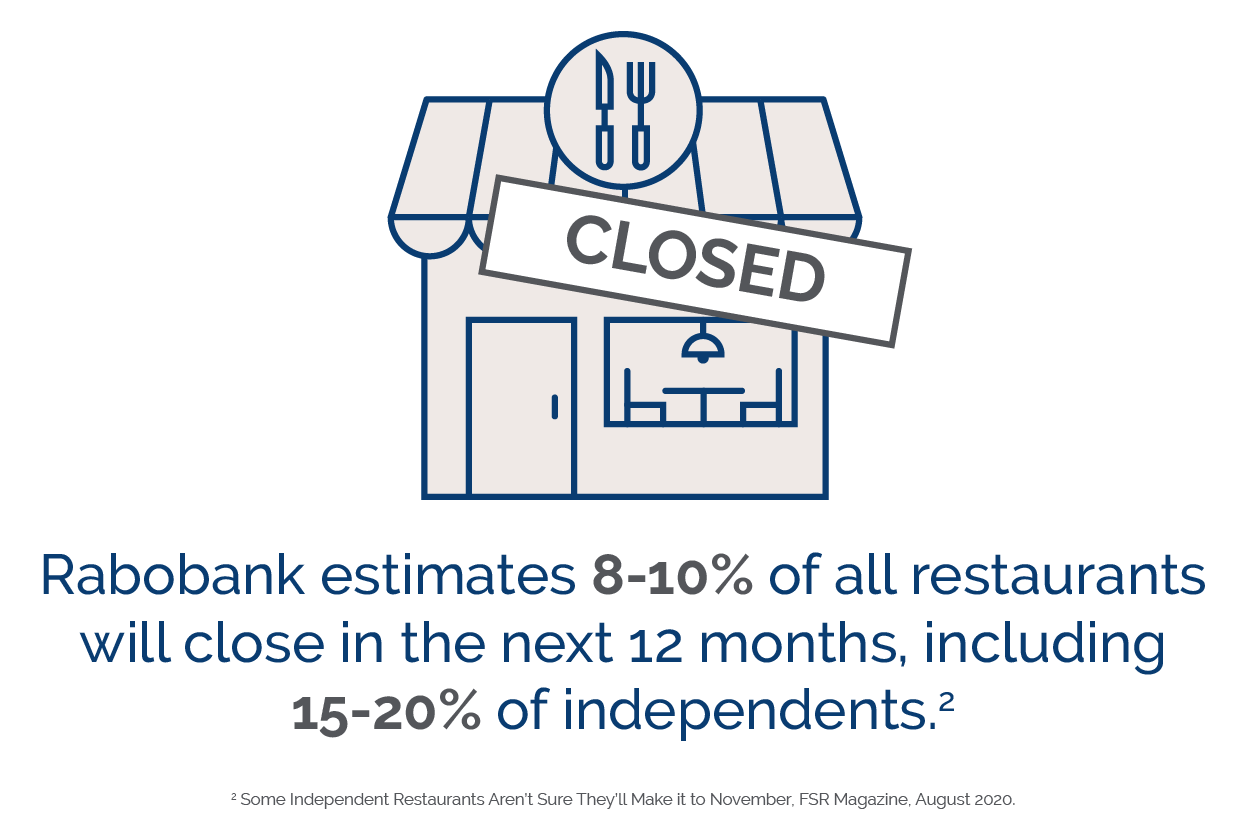 A recent Datassential survey reported that 8% of operators (whose restaurants may be currently opened or closed) are feeling very nervous that their operation will not be able to return to a profitable business.1 Those numbers line up with estimates from Rabobank that 8-10% of all restaurants will close in the next 12 months, including 15-20% of independents.2 This is a significant increase compared to a typical year where 2% of restaurants permanently close.3 Additionally, restaurants overall lost about a third of their revenue in 2020's second quarter compared to the same period last year. The most common way that restaurants have tried to augment their bottom line is by offering carryout and delivery services. Many who didn't offer takeout prior to the pandemic, though, are still trying to piece together plans to make them profitable. That's where the packers and processors come in.
Smart packers and processors are finding ways to be a resource for struggling foodservice operators. They're offering tips like how to cross-utilize proteins across menu items and how to engineer menus so the eye falls on higher profit margin dishes.
To help restaurants have more confidence in the beef and pork items on their takeout menus, the Tyson Fresh Meats Team created a resource to help restaurant owners. The single Q&A sheet suggests beef and pork cuts that can easily be refrigerated or frozen to help minimize shrink, as well as tips to ensure a better takeout experience. One tip reads: "The larger the cut, the longer it holds heat. Try large cuts held in au jus or pork broth to keep the product in better condition."
This is all new territory as the meat industry tries to find ways to support foodservice. Communicating on supply chain issues is one way to provide additional aid. One of Datassential's survey questions to operators was: "What could a supplier, manufacturer, or distributor partner do to make the biggest difference in your operation right now?" and one of the most common answers was a variation on, "Give us as much advanced notice as possible if a product will be out of stock." This is particularly pertinent to meat suppliers as the supply chain and product availability have been erratic during the pandemic.
In addition to simply offering tips, now is the time for innovators and R&D departments to shine. Packers and processors who can create the biggest time and money savings with new items are likely to win the day. For example, pre-cut steaks and chops can help restaurants reduce labor while simultaneously stabilizing plate costs. These portion cut proteins have the added benefit of coming in smaller cases, which restaurants will appreciate while their storage capacity is limited.
Portion cut proteins are also great for sous-vide cooking. Since the proteins are already vacuum-sealed, restaurant operators can take the packaged meat straight from the cooler to the sous vide to the plate — or maybe make a quick trip to the grill before plating to add those perfect grill marks. To save another step in the process, some specialty processors, like Ed Miniat, work with restaurants to create custom protein solutions. Among their capabilities is industry-leading commercial sous-vide cooking, which provides foodservice partners with perfectly cooked meats ready for any application.
Speaking of time-saving prep methods — expect to see pre-seasoned or pre-marinated meat options become a staple in the modern kitchen. Diners today are craving dishes that they wouldn't attempt to make at home, often because of longer prep and cook times. As that burden shifts to the restaurant operator, saving time in the kitchen is imperative. Partnering with a processor, like Birchwood Foods, who offers customizable, high-quality proteins saves the operator valuable prep time. Whether that's pre-marinated pork for carnitas, seasoned and fully cooked beef to top a salad, or a burger patty with customized inclusions, processors providing tailor-made culinary expertise will come out on top.
As foodservice operators continue to adapt to pandemic-related restrictions and try to turn a profit again, keep in mind that the packer/processor-foodservice partnership will be vital to helping the industry thrive again. Continue listening to operators' needs and adapt and innovate for changing demands. Now is the time to build relationships that will last far beyond COVID-19.
This is the third in a series of blogs diving into the future of foodservice through the lens of meat marketers. Check back soon for the next installment. For more information on how the coronavirus has changed the meat industry, visit our COVID-19 Insights Hub.
1 Report 29: Operators Dig In, Datassential, July 31, 2020.
2 Some Independent Restaurants Aren't Sure They'll Make it to November, FSR Magazine, August 2020.
3 More than 10,000 Independent Restaurants Closed Last Year, FastCompany.com, February 2018.