The meat case today looks different than it did just a few years ago. Branded meat, plant-based meat alternatives, claims, nutrition callouts, new packaging types – today's meat case is in the process of a total transformation.
New technologies, including cell-based meat and gene-edited meat, are just around the corner, too, waiting to flip the whole meat case on its head. In May, Midan Marketing surveyed meat consumers to learn more about how they perceive plant-based, cell-based and gene-edited meat and whether they intend to try the new products when they become available.
Plant-Based Meat Alternatives
Unsurprisingly, meat consumers are pretty familiar with plant-based meat alternatives. In May, two-thirds of meat consumers reported knowing of these products and being fairly confident they understand what the term means.1 Two years after making it onto grocery store shelves, plant-based meats now make up 1.2% of volume sales in the meat department and growing.2
"Plant-based meat continues to grow faster than overall meat," explained Erkin Peksoz, IRI consultant. "In the last year (ending 5/9/2021), volume sales growth outpaced meat's 18.4% to 0.5%. The primary driver in this category is meat replacements like Impossible Foods and Beyond Meat versus classic meat alternatives."
It is important to note, though, when looking at year-over-year growth of new products that growth will always seem high because fewer stores carried the product and less product was stocked during the origin year.
Today, about 20% of meat consumers eat plant-based meat alternatives once per month or more; an additional 30% have tried it in the past but don't eat it regularly. This equates to half of meat consumers who have tried plant-based alternatives. Of those, 28% say they will definitely continue to regularly eat plant-based meat alternatives in the future. An additional 37% said they would "probably" continue to eat it.1
Consumer acceptance of plant-based meat alternatives means they're likely to be sticking around. Most shoppers today know what these products are, but nonetheless, it's important for retailers to be ready to answer questions on topics like the nutrition and sustainability of these meat-less products.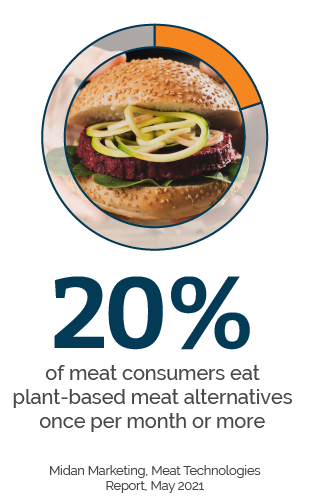 Gene-Edited Meat
Still in research and development, gene-edited meat is the lab-based approach to selective breeding. In our survey, this technology was explained as "meat produced from an animal that inherited a laboratory-induced alteration in DNA (on genetic material) by adding or deleting parts of a gene. This kind of meat isn't on the market in the U.S. yet, but it's in development and is a few years from being available to U.S. consumers."1
Editing the genes of food animals is done for a few reasons – to make them grow faster, to help them be less reliant on antibiotics or hormones, or to make them resistant to diseases that do not have vaccines or cures. One example of this research being conducted now is with Porcine Reproductive and Respiratory Syndrome (PRRS) in hogs. This disease has no vaccine or cure and costs the swine industry hundreds of millions of dollars each year.3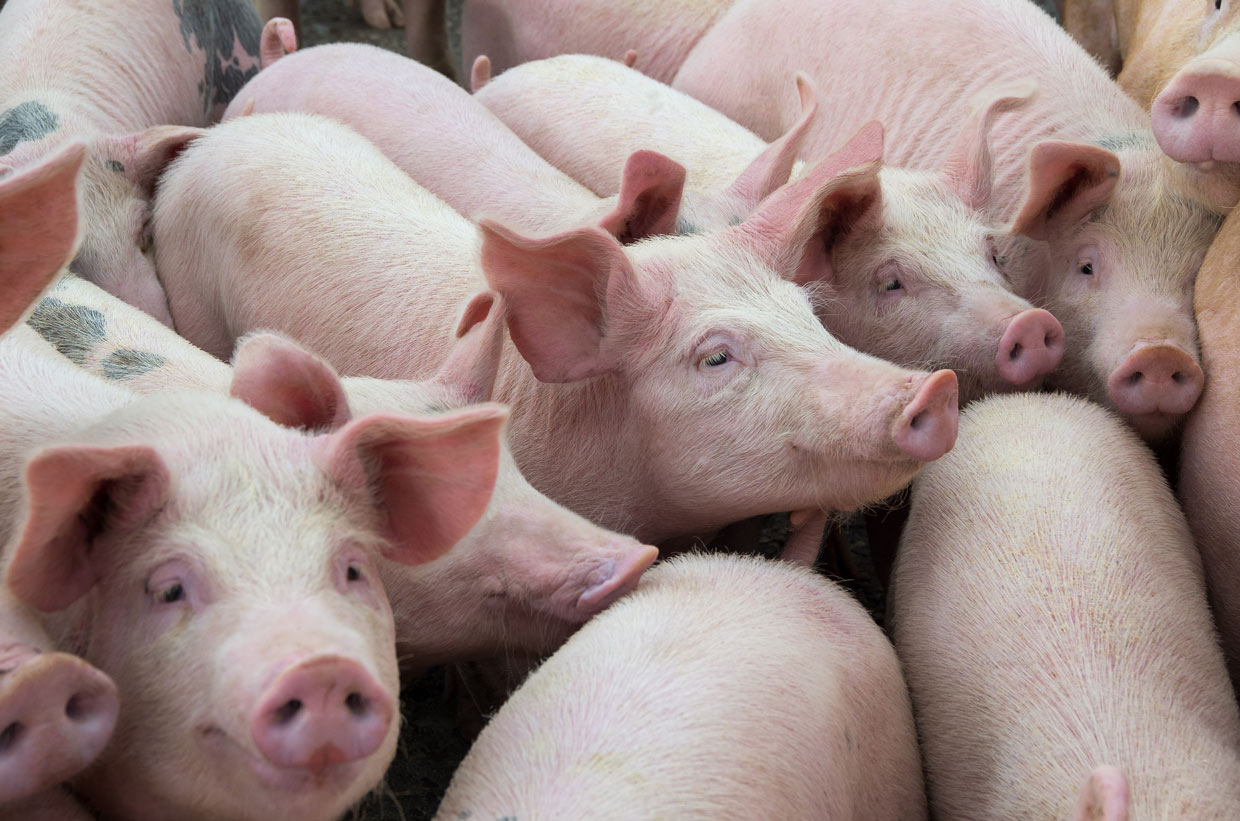 In the May consumer research, 14% of meat consumers reported being familiar enough with the term "gene-edited meat" that they understood what the term means. An additional quarter of consumers said they were aware of the term but are not sure what it means. Overall reaction to the term falls in the negative to neutral space with just 14% responding positively to it. It's not all bad, though – the 33% of consumers who are neutral may be swayed as these products come closer to being available for consumption.
1
It may take a good bit of education to help shoppers understand and embrace gene-edited meat, though. Only 24% of meat consumers said they would probably or definitely try this product once available and 46% said they would probably or definitely not try it. Those who wouldn't try it say they "don't trust genetically modified food," that "it seems unnatural and it might be harmful to the animal," or simply that it "sounds disgusting." On flavor, about a third of meat consumers think gene-edited meat would taste different than the meat they normally purchase and 39% just aren't sure how it would taste.1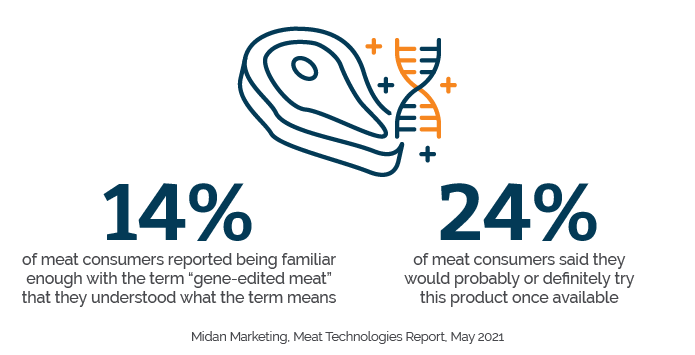 When these products hit the shelves, they may require a label telling customers they are gene edited. If so, customers will expect retailers to be able to explain how these products differ from the rest of the meat case. To get buy-in for these products, it will be important to focus on how gene editing benefits the animals' welfare. With positive reaction and consumer likelihood to try these products still quite low, education will be needed to get shoppers on board.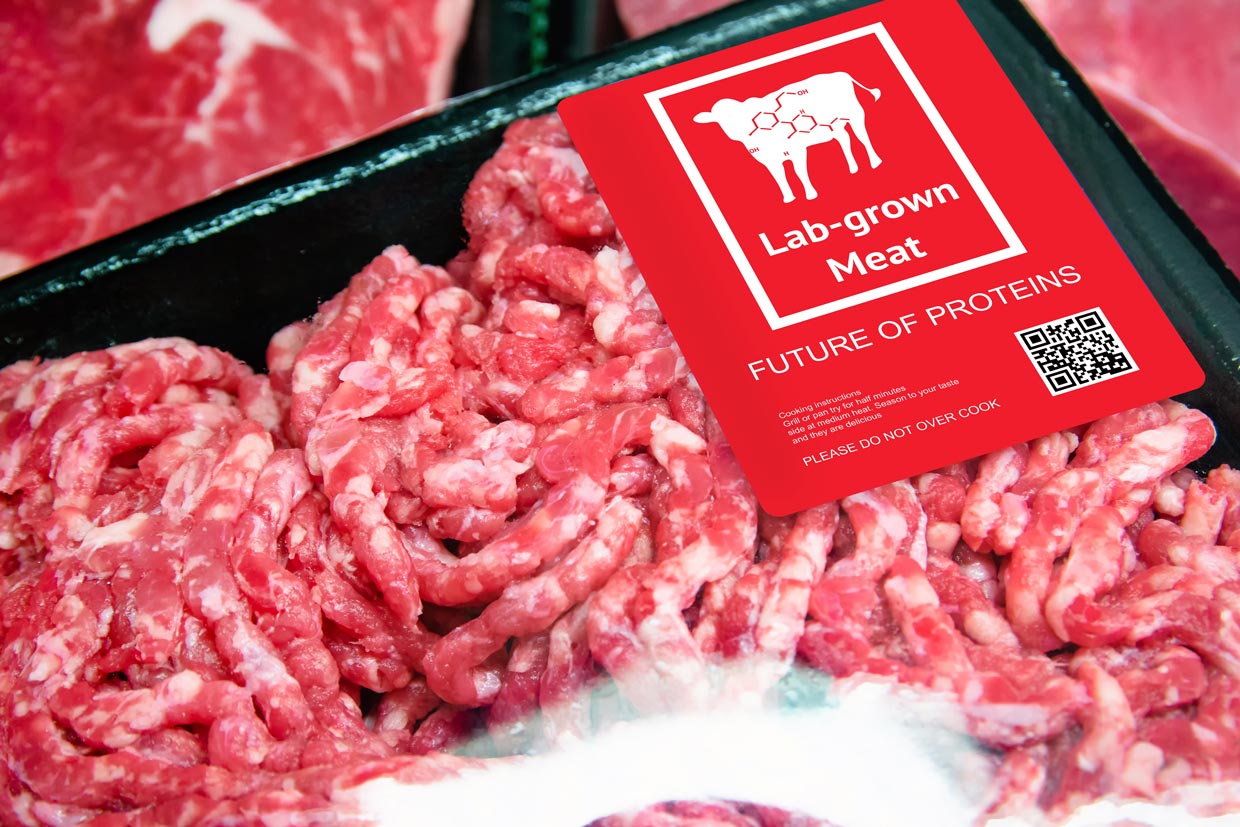 Cell-Based Meat
One technology that sounds like it belongs in a sci-fi movie is cell-based meat. This product isn't available yet in the U.S. but isn't as farfetched as it once was. In 2020, a restaurant in Singapore began offering cell-based chicken nuggets to customers. What makes this technology so interesting? No animals are killed to make the meat. In the survey, cell-based meat was defined as "meat grown in a lab from a small amount of stem cells from living animals with the look, feel, taste and texture of traditional meat."1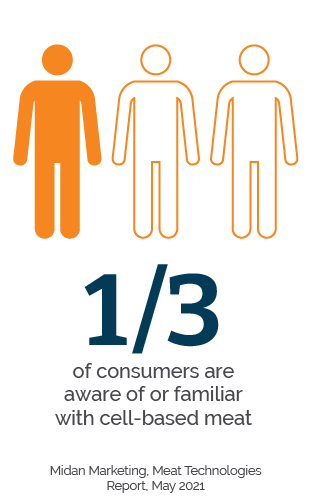 Meat consumers who are familiar with cell-based meat are similar in number to those familiar with gene-edited meat. In total, just over one-third of consumers are aware of or familiar with cell-based meat. Interestingly, the more familiar a consumer is with this term, the more likely they are to react positively to it.
1
In May, 10% of meat consumers said they would definitely try cell-based meat when it becomes available for purchase; an additional 18% said they would probably try it.1 This has increased noticeably from a combined 16% since we asked a similar question in January 2019.4 Just like gene-edited meat, consumers aren't sure whether they expect it to taste like traditional meat or not – about a quarter assume it will taste the same and 35% believe it will taste different.1
Cell-based meat is likely to hit stores in stages, much like plant-based meat alternatives have. It's safe to expect ground and formed products, like ground beef, chicken nuggets and meatballs, will become commercially available first. For this product, retailers will need to focus first on shoppers with animal welfare concerns if they want to convert consumers who may try the product into regular buyers.
Science and technology are always moving forward but sometimes it can be difficult to convince consumers to try new things. While plant-based meat alternatives are already on the shelves, cell-based and gene-edited meat are probably still at least a year away from being available for consumers to purchase. When talking with customers, take note of their animal welfare and sustainability concerns – this may help you educate consumers on new products that solve their worries in the future.