Meat Consumer Segmentation 2.1
Four Meat Consumer Segments Have Been Impacted By the Pandemic

Updated research to help you better understand meat consumers
At Midan, we're keenly aware that what's happening across town or across the globe can impact today's meat consumers. In September 2020, against the backdrop of the devastating COVID-19 pandemic, we revisited our ground-breaking Meat Consumer Segmentation 2.0 research, initially released in 2019. How was the global health crisis affecting the meat and chicken consumer segments we identified just the previous year? To find out, we surveyed a nationally representative sample of the meat-eating population to determine if the distribution of the segments had changed. The answer was a resounding "Yes!" – meat consumer segmentation percentages exhibited significant shifts during the COVID-19 pandemic. While the defining characteristics of each segment remained unchanged, the number of consumers in certain segments changed, creating opportunities for the meat industry to zero in on the preferences of those consumers. Download our free, updated Top-Line Summary to see the key segment shifts revealed by this Segmentation 2.1 research.
The value of segmentation
One of the best ways to really get to know meat consumers is through segmentation research. Segmentation helps group consumers with similar attitudes, preferences and drivers in order to more accurately target them with customized messaging, products and services.
We know that today's consumers are a moving target. The U.S. population is changing significantly, driven by younger generations with increasingly diverse ethnic profiles and attitudes. The meat case also looks different; plant-based (and soon cell-based) meats sit alongside traditional meat offerings. Platforms that seamlessly blend the online, on-the-phone and in-person shopping experiences are thriving, accelerated in part by COVID-19. And our Segmentation 2.1 research confirmed that significant health and economic events like the pandemic undoubtedly impact consumer behavior.
Segmentation helps to make sense of all of these factors by grouping like-minded consumers together, so that we can better understand how each group shops for and prepares meat.
Get to know the five meat consumer segments
For our original Meat Consumer Segmentation 2.0 study, we surveyed a national sample of U.S. adult consumers who had eaten meat or poultry (beef, pork, chicken or turkey) in the past three months. Our research yielded a total of five distinct meat consumer segments, each with a unique set of meat attitudes and behaviors.
We've updated our original full Meat Consumer Segmentation 2.0 report to include a new section that highlights the findings from the 2.1 revisit of the research, plus updated our free Top-Line Summary to illustrate how the meat consumer segmentation percentages shifted during COVID-19.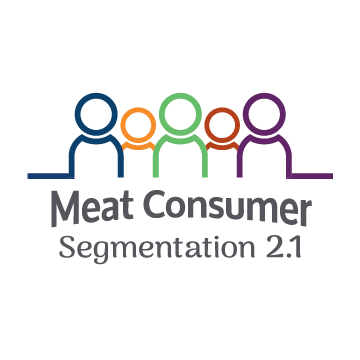 MEAT CONSUMER SEGMENTATION 2.1 TOP-LINE SUMMARY
A high-level overview of each of the five meat consumer segments, including how segment distribution shifted during COVID-19.
MEAT CONSUMER SEGMENTATION 2.0 FULL REPORT
An updated 118-page research deck available for purchase and instant download, including the findings from Segmentation 2.1 conducted in September 2020.
SPECIAL OFFER:
TALK WITH OUR RESEARCH PRINCIPAL
Want to put Meat Consumer Segmentation to work for your business?
Schedule a 15-minute, no obligation call with Michael Uetz Midan's research principal, to learn how the insights about today's five meat consumer segments can help you pinpoint unique purchase drivers for your specific customers.