In March and April, social media was inundated with pictures of friends trying their hand at bread baking. Now, as the weather has gotten warmer, there's a new trend emerging: "Just bought my first smoker, what should I cook on it first?"
With "safer at home" measures still in place in some states, and public gatherings limited, the summer of 2020 will be all about the backyard. To me, nothing says "summer" like being on the back patio with my dad, enjoying the smell of hickory wafting from the smoker.
My dad and I have been cooking together for years, but in January got to share an experience that truly upped our backyard barbecue game. For my 30th birthday, the two of us met up in the small town of Unadilla, Georgia, to learn new techniques from the king of barbecue himself, Myron Mixon, at his Jack's Old South Cooking School.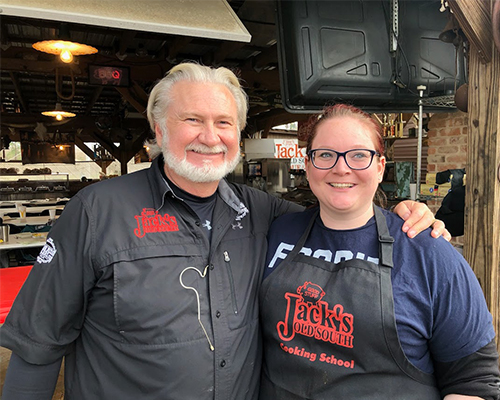 Myron and Connor during Jack's Old South Cooking School in January. 
For the uninitiated, Myron Mixon is a celebrity chef and a legend in the competitive barbecue circuit. With four World Championships and (at last count) more than 220 Grand Championship awards, he has claimed the title of "the winningest man in barbecue." He appeared as a judge on the reality television show
BBQ Pitmasters
, has three published books and opened his first BBQ restaurant three years ago.
As I reflect on my barbecue weekend, I know that many of the things I learned from Myron will influence how I barbecue this summer and all the summers after.
More education leads to better results. We've all seen the diagrams of hogs showing where each cut of meat comes from. Myron, however, went through the same exercise with an open carcass and things became much more clear. He took packaged baby back ribs and pork spareribs and laid them over the carcass to show how they join and fit in the hog's body. He did the same with a packaged pork shoulder and butt – showing which muscles are common between the two cuts and which are only found on the shoulder. He worked the hog over this way – from tip to tail – explaining where each meat muscle comes from and how that positioning affects the eating experience. Not everyone will have the benefit of open carcass instruction that my dad and I had with Myron, but it's a reminder that every opportunity to educate consumers can lead to a more knowledgeable, satisfied customer.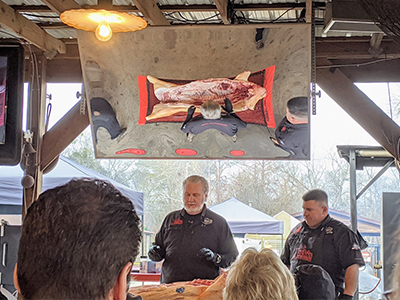 Myron Mixon walks the class through hog anatomy using the whole carcass.
Simple tips can have a big payoff. I've been butchering beef ribs. Literally. In the past, my beef ribs have always been subpar. With Myron instructing, I learned (very quickly) what I had been doing wrong. I've always purchased beef short ribs that were already cut into individual ribs. In class, we smoked the whole rack (or plate) of ribs. Keeping the ribs connected during the smoking process may take longer to cook, but the ribs retain more moisture – and flavor. I'll definitely be adding beef ribs back to my barbecue repertoire. What easy tips can we share with consumers to help them better enjoy our products?
Never stop improving. You might think that "the winningest man in barbecue" is stuck in his ways – that he uses the same recipes now as he did five years ago (or 10 or 19 years ago when he won his first World Championship). But you'd be wrong. We were impressed to learn that Myron constantly experiments to make a better end product. During class, Myron demonstrated his Cupcake Chicken Thighs, the recipe which first appeared in Smokin' with Myron Mixon in 2011. I personally made this recipe in 2013 and vividly remember the work that went into making it. Dad and I immediately recognized that Myron's method had changed at some point in the last nine years and, upon further inspection, realized the ingredients in his sauce recipes had been updated, too. The lesson here being: If the best in the business still focuses on improvement, the rest of us have no time to rest on our laurels. If we aren't continually improving, we're falling behind.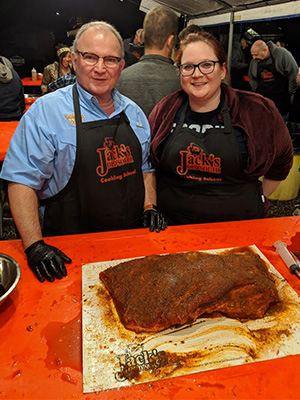 Connor and her dad (Mark) spent the weekend learning from "the winningest man in barbecue" to up their smoking game back home.
Barbecuing is about more than what's on the grill. Myron showed off tools during his class, which dad and I were excited to buy and try at home. As much as we love all the fun accessories, we know that the grill and what's on it are only part of the story – grilling is really about the experience. One of the best benefits of my "low and slow" cooking method is that I get to spend more time in front of the fire with my dad. When selling to consumers this summer, remember that new backyard pitmasters will be looking for guidance. Provide resources that help guarantee they have a great cooking and eating experience:

Share tips about which cuts are best for the grill and the smoker
Offer recipe cards with simple, "how to" instructions
Cross-merchandise with premade sauces, marinades and rubs

And remember:  As long as the customer is smiling and licking his fingers at the end of the meal, there's no wrong way to barbecue.