From 15th century French origins to social media phenomenon – charcuterie has made an impressive and visually pleasing comeback. Charcuterie boards traditionally feature a curated selection of cured meats and cheeses alongside noshes like crackers, berries, nuts and jams. While the fascination with charcuterie may seem like a random occurrence, it makes sense as a foodie trend. Consumers young and old are sharing their every meal on social media and little is more visually appetizing than an aesthetically arranged charcuterie board.
Consumers have excitedly adopted charcuterie, and more than a quarter are creating boards at home at least once per month.1 At retail, charcuterie* has seen constant growth since 2017. In fact, all categories of charcuterie, except the deli counter where a store employee slices meat to order, have outperformed total edible (total store minus non-edibles like kitchen gadgets and toilet paper) and total meat for the last four years.2 As with the rest of the store, COVID-19 positively affected charcuterie sales. Pre-packed charcuterie spiked at around an 80% volume increase in Q2 2020 compared to the previous year. Even once the early pandemic panic buying wore off, pre-packed charcuterie volume remained about 40% up over 2019.3
"The pandemic favorably impacted pre-packed and packaged charcuterie due to requiring less contact or interaction," explained Erkin Peksoz, IRI consultant. "The opposite is true for service counter charcuterie, which requires more contact or interaction. We also saw higher volatility in packaged charcuterie sales during the pandemic, likely brought on by supply shortages and panic buying."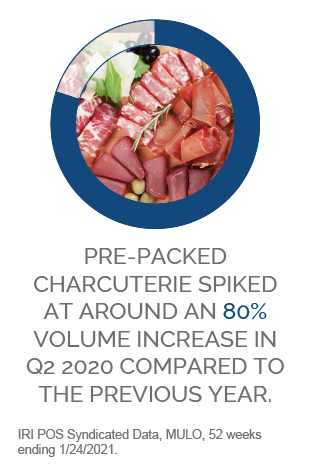 Charcuterie benefitted during the pandemic from not being a single daypart food item. While charcuterie boards are great for entertaining, 30% of consumers who make charcuterie boards at home at least a couple times each year use them as a protein-packed snack food and 31% serve them as a no-cook dinner when the kitchen needs a break.
1
Charcuterie brings foodservice flair for consumers missing in-restaurant dining and provides big, bold international flavors for shoppers who are antsy to travel again.
As the weather warms and vaccinations continue, consumers will be planning to gather again. Mintel research shows that entertaining at home this year will incorporate elements from foodservice that Americans have been missing. More than half of surveyed consumers either have purchased or are interested in purchasing foodservice prepared items for social gatherings at home.4 Instead of letting consumers default to restaurants, help them engage with your store by spending time now focusing on your charcuterie selection.
Making the leap from pegboard to charcuterie board
No matter how beautifully displayed the prosciutto and salami are on your pegboard, that alone will not be enough inspiration to help most consumers build a charcuterie platter they can be excited to serve their friends and family. This leads to our first opportunity – cross-merchandising and cross-promotion.
Whether it's in the store, in the circular or online, the charcuterie category is perfectly designed for cross-promotion. In store, charcuterie boards and a selection of jams and honey can appear near the charcuterie selection for consumer inspiration. In your weekly circular, offer a package of artisanal cracked pepper crackers at a discount when purchased with branded prosciutto. On your website and e-commerce platforms, perhaps a grainy mustard comes up as a "frequently paired item" with salami.
Education is key to getting consumers on board
Your website is also a great place to start educating consumers on charcuterie and helping them craft perfect boards. Easy to understand blogs and DIY (Do It Yourself) videos can give consumers the confidence they need to create a charcuterie board at home. To take it a step further, bring education into your store. Perhaps on the pegboard alongside the pre-packaged meats, there is a quick buying guide for a perfect charcuterie board, with suggested meats, cheeses and accessories. More in-store education might come in the form of a charcuterie and wine night, where an expert helps pair meats, cheeses and wines while also teaching shoppers tricks for making their charcuterie boards special – like how to make a salami rose. Ohio-based grocer Jungle Jim's is even using Facebook Live to target home-bound residents to educate and entertain with topics including how to create a movie night charcuterie board.
Partnering with the right companies and brands can also play directly into your education tactics. The cheesemonger from a local dairy can help customers pair their cured meats with the perfect local cheese. Some brands may offer their own educational items as well. Hormel, for example, shared construction tips during Christmas for making a Charcuterie Chalet – an Instagram trend where instead of making gingerbread houses, users were making cottages featuring charcuterie, cheese, pretzels and crackers.
Education can also be a fun and creative part of charcuterie board construction. Online advice on how to choose cheeses for a charcuterie board is plentiful: pair a soft, hard and crumble cheese together; offer a variety of cow, goat and sheep's cheese; present a funky cheese, a common cheese and something you wouldn't otherwise try. But the same outlines don't exist for the meats on the board. Providing easy, go-to advice on how to choose meats for a charcuterie board could be your retailer's first step toward a more inclusive charcuterie experience.
Leaning into the storytelling aspect
Consumers want to know where their food comes from. With meat, this shows up often when talking about animal welfare – the majority of consumers want retailers and meat packaging to share information about where the meat comes from.5 But consumers are also just genuinely curious, especially if the food lends itself to storytelling.
Part of the allure of a charcuterie board is that each item on the board has a story. Maybe the goat's milk cheese is from Spain and the cave aged blue cheese is local to the consumer's home state. A meat product's background can have the same storytelling power.
"My family has been processing pork in Parma for more than a century," explained Guglielmo Sassi, one of the owners of the Casale Italian Food Company. "We have followed traditional prosciutto-making techniques for four generations, starting with the hams from only the best pigs available. The result is a 100% natural product preserved with only salt – no preservatives or additives."
Stories like these transform charcuterie boards from an appetizer to an authentic food experience.
Charcuterie is a growing category with the potential for even more growth as consumers reset from the COVID-19 pandemic. As opportunities to entertain begin to re-emerge, shoppers will be looking for a treat that is both a feast for the eyes and the taste buds, while bringing in the international flair they long for. The category is ripe for education, storytelling and cross-promotion and merchandising. Capitalize on the charcuterie trend by examining your own cured meats selection and use it as an opportunity to better engage your customers.
*For this study, Charcuterie is defined by an aggregate of salami, soppressata, calabrese, mortadella and prosciutto that comes pre-packaged, from the service counter or pre-packed in store.
1 Midan Marketing, Multicultural Meat Consumer. March 2021.
2 IRI POS Syndicated Data, MULO. 2017-2020.
3 IRI POS Syndicated Data, MULO, 52 weeks ending 1/24/2021.
4 Mintel, The Future of Foodservice: 2021 (Incl. Impact of COVID-19) – US. December 2020.
5 Anne-Marie Roerink, Principal, 210 Analytics LLC, The Power of Meat 2020: An In-Depth Look at Meat Through the Shopper's Eyes, Report sponsored by Sealed Air Food Care Division/Cryovac®
This content originally appeared in The Shelby Report.