Inflation — a topic none of us are excited about, yet all of us are keenly aware of. The June inflation numbers, released by the U.S. Bureau of Labor Statistics in July, showed that overall inflation is up 9.1% year-over-year with even higher percentages appearing across the grocery store. "Food at home" is suffering from inflation over 12%, "meats, poultry, fish and eggs" is up nearly 12% as a category with eggs currently suffering the worst with 33.1% year-over-year inflation.
1
It likely comes as a shock to nobody that in March 2022, 82% of meat consumers said they were "very" or "extremely" concerned about the current inflation rate on a survey conducted by our team at Midan. Concern around inflation was highest among Baby Boomers and consumers living in the Northeast. When broken down further, 91% of consumers say they are worried about the overall economy and 76% are worried about their personal economic situation.2
In March, a third (32%) of meat consumers said they purchased less meat (beef and pork) in the last month than they normally do and 14% purchased less chicken. Of those purchasing less, 78% say their reason for purchasing less meat is due to the price. Higher prices are also affecting other purchasing and preparation habits. More than half (56%) of meat consumers say they are seeking out less expensive meat/chicken than normal. About the same number (55%) are freezing more meat/chicken in fear that the grocery stores will again have to deal with supply chain issues and out-of-stocks. Finally, 40% of meat consumers say they are purchasing more ground meat than normal to stretch their food budgets further.2
It is well understood that in times of economic uncertainty, consumers tighten their belts and become more conscious of the money they're spending at the store, especially at the meat case. But what — as an advocate of animal agriculture — can you do to help consumers feel comfortable continuing to put meat in their basket and on their table? We find that keeping consumers engaged with meat boils down to messaging on two things — stability and value.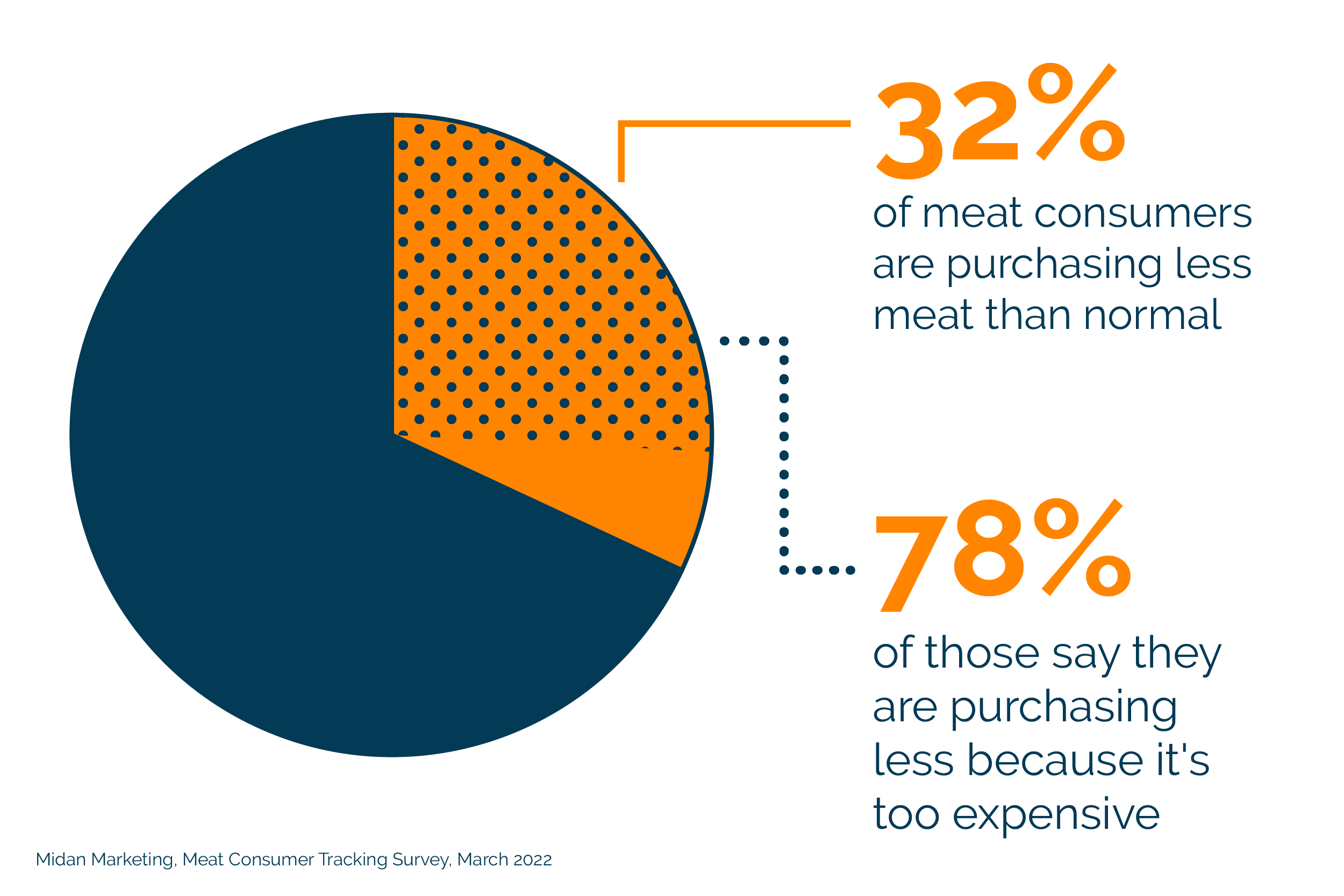 To provide stability and maintain consumer confidence, we need to be transparent with consumers. For example, if the shelves are sparse, communicate with them what may have caused that shortage. Simply taking the time to explain to the consumer (in-person, with signage at the meat case, on their local news channel or possibly even on their TikTok feed) that beef is in low supply due to the heat wave in the Midwest helps establish trust, keeps them engaged with our industry and makes it more likely that they'll check again next week for our products.
Another way to provide some stability in the meat case is by leveraging brands. In times of uncertainty, consumers turn to brands they know and trust as a way to mitigate risk. Whether that's a name brand like Tyson or a private label brand like Kroger's Private Selection, shoppers know they've had good experiences with these brands before and are less likely to deviate from them (assuming they're in stock) as a way of ensuring their purchase is worth the money.
The other main strategy for keeping meat on plates is by adding and communicating value. During the 2008 recession, we all got very accustomed to sharing the value of more expensive cuts like chuck roast — yes, it's a higher price at checkout, but this one cut can feed a family several meals rather than just one. In the most literal sense, value added meats also add value for the consumer. Today, two-thirds (67%) of meat consumers purchase value added meats regularly. This number jumped during COVID-19 as people simply got tired of coming up with new meal ideas night after night.3
And finally, we always want to remember to communicate with consumers on the things they personally value. That may look like sharing nutritional information (especially protein!) on meat packages. It may mean providing more meal inspiration to help with their cooking fatigue. And, as always, it means talking to them about topics like animal welfare.
Keeping meat at the center of the plate right now isn't easy for consumers. Their budgets are stretched and there currently seems to be no end in sight for inflation. Help your friends and family feel secure in their meat purchases by answering their questions and reinforcing the stability and value of meat. Today's consumers don't want to eliminate meat from their diets, they just need reassurance that it's the right place to spend their dollars.
1
U.S. Bureau of Labor Statistics, Consumer Price Index for All Urban Consumers by Detailed Expenditure Category, June 2022 (released July 2022)
2
Midan Marketing, Meat Consumer Tracking Survey, March 2022.
3
Anne-Marie Roerink, Principal, 210 Analytics LLC, The Power of Meat 2022, Report sponsored by Sealed Air Food Care Division/Cryovac® and Published by FMI and the Foundation for Meat & Poultry Research & Education
This content originally published in the National Institute for Animal Agriculture's members-only newsletter Paradigm.