Midan Marketing Principal Michael Uetz spoke during The NGA Show 2022 about current consumer trends at the meat case. In case you missed it, here are the top three takeaways from the presentation:
1. Supply Chain Woes Have Reached Consumers
We have all dealt with supply chain issues since the beginning of the pandemic, but consumers are once again feeling the strain of bare shelves. This time, shortages are coupled with historic inflation levels. In January, inflation reached 7.5% and, in the meat case, it's up even more at 12.2% over 12 months. Today, beef steak costs $2.18 more per pound than it did in January 2020; pork chops are up 65 cents per pound in the same period.3 But many consumers don't know enough about the meat supply chain to understand why shelves are empty or costs are going up. It's harder for them to connect how labor shortages are impacting transportation of goods, compounded by vaccine mandates and protests. They don't know there are fewer value added products in the meat case right now because they require more labor to create. This is an opportunity for retailers to foster trust with consumers by explaining the "why" behind these issues along with recommending other options in the meat case if their favorite cuts aren't available.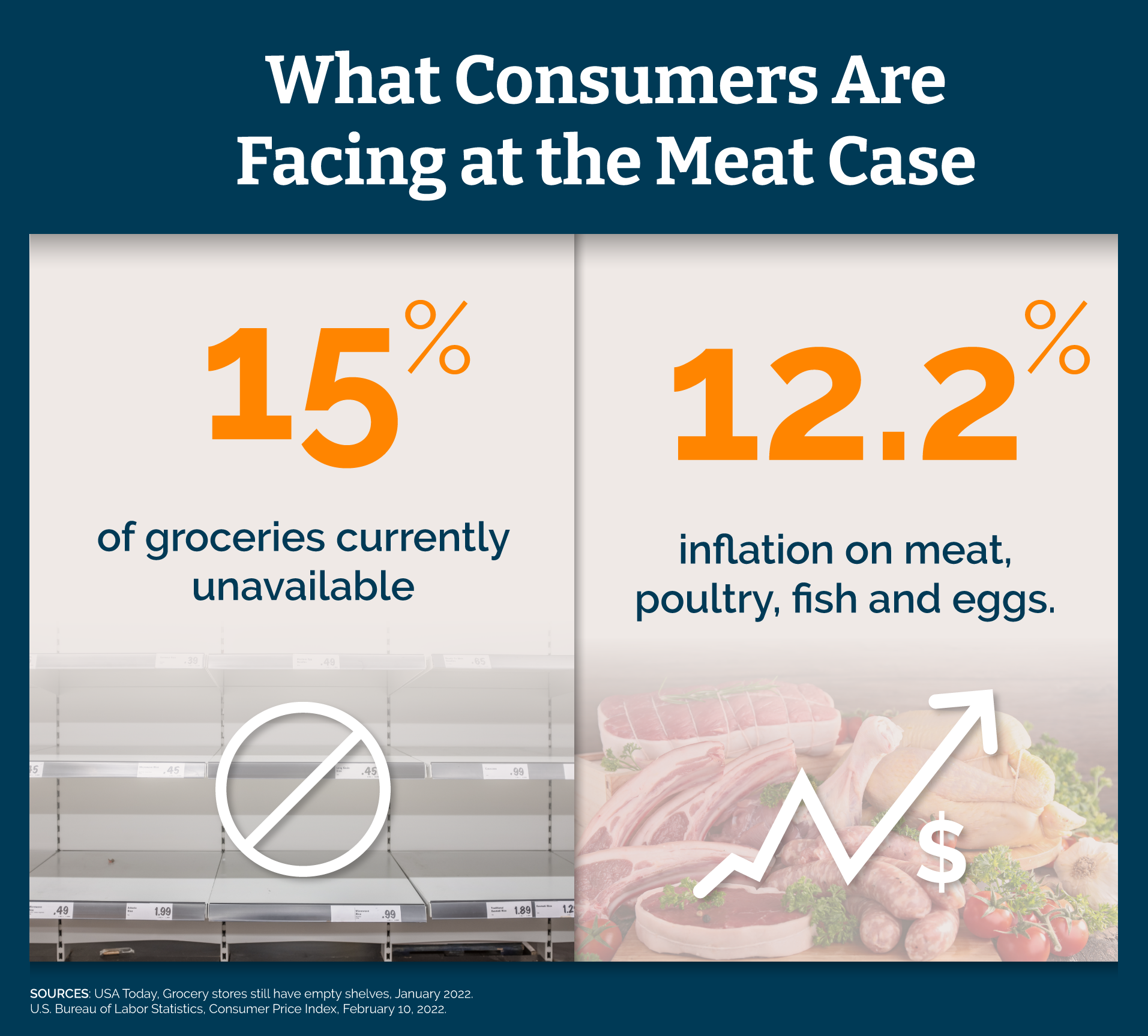 2. E-Commerce is Expanding
Pre-pandemic, consumers were skeptical about purchasing meat (and other fresh food items) online, even from their local grocery store for delivery or pickup. But the COVID-19 pandemic has changed that. According to Midan Marketing research, 57% of meat consumers have purchased meat online at some point during the pandemic and the most used method is buying online from a local grocer for delivery or pickup.1 As the pandemic has evolved and more consumers are looking for convenience, up to 70% of consumers are now purchasing groceries online.2 About a quarter (23%) of all meat consumers say they'll continue purchasing at least some of their meat online once all pandemic-related restrictions ease.1 This expansion of e-commerce makes it more important than ever to communicate with consumers across platforms, both in the physical and digital realms.
3. Communicating in an Omnichannel Environment
Retailers now exist in an omnichannel world. Every message that is communicated in-store should also be available online for those shoppers to experience. Especially when there are issues, like that of supply chain shortages, it's important to hit consumers on multiple channels to ensure the retailer's message is heard. Many stores are turning to new platforms like TikTok to effectively engage with today's consumers. Here are some of our favorite videos from around the web that demonstrate different ways retailers are communicating directly and authentically with consumers, on topics ranging from sustainability to picking the best berries.
As aftershocks from the pandemic continue to impact meat purchasing, it's critical to stay tuned into current consumer trends. Midan's ongoing industry research can help you gain insights into the attitudes and behaviors of today's ever-evolving meat shoppers. If you haven't already, learn more about what consumers think about sustainably raised meats in our latest research study here.
1 Midan Marketing, e-Commerce Meat Customer, March 2021
2 Chicory, 2022 Online Grocery Usership, December 2021.
3 U.S. Bureau of Labor Statistics, Consumer Price Index, February 10, 2022