2020 has been a year for the history books. Just inside the grocery store walls, we have experienced panic buying, supply chain disruptions, hero pay, out of stocks, price increases, new cleaning regimens and customer mandates, and – maybe finally, a sense of what our new normal will be.
According to data from IRI, dollar sales growth for the total grocery store jumped up 63% in mid-March, compared to the same week in 2019. Individual departments also saw unprecedented growth, including the meat department, which had the largest jump with 91% dollar sales growth the week of March 22.1 Much of this business, as you know, was due in part to the closing of foodservice establishments across the country and consumers quarantining at home.
These unprecedented sales increases for grocery stores – and meat departments in particular – not only generated unexpected revenue, but also opportunities to service new customers.
"We were fortunate to have the opportunity to help our guests weather this pandemic and as a result, our business grew," explained Mike Richter, vice president of fresh merchandising at Coborn's, Inc., a Midwest supermarket chain. "At this point, we know we need to earn that business or we will lose it."
Now, as we prepare for 2021, we cannot take our foot off the gas. It's time to take what we learned this year, understand how the consumer has changed, tighten our messaging and up our branding. Each of these elements will be important to retaining the new business 2020 brought.
At Midan Marketing, we have been tracking shopping changes at the meat case since March with monthly consumer surveys. Some of the results, like the increase in stockpiling behaviors, are unsurprising given the overall narrative of the pandemic. But other results were less expected. For example, in September 33% of consumers reported eating more meat or chicken in the past month. The same number (about 1 in 3) say they plan to purchase meat primarily online once COVID-19 ends. And 3 in 5 shoppers think they will continue experimenting with new recipes and methods of cooking meat.2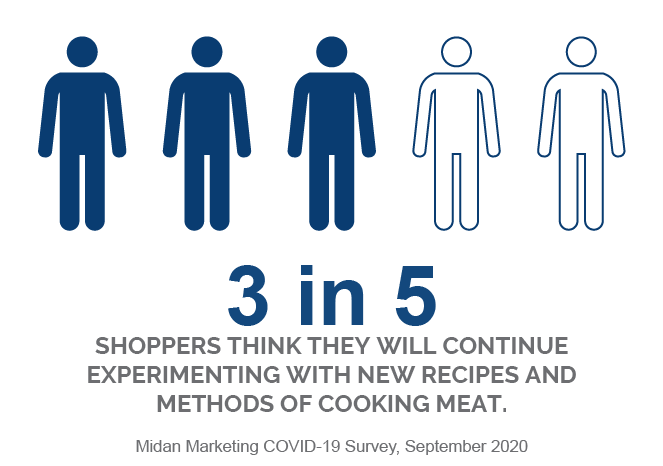 Changes like the adoption of e-commerce platforms were already happening before COVID, but the pace has accelerated greatly this year. Estimates show that since March, online spending across all channels has seen about five years of growth, putting us now where we previously expected to be in 2025.3 Other changes, such as the shift to more home cooking were less expected. In May, IRI reported that 51% of shoppers were preparing more than 90% of their meals at home.4 Now, even with restaurants reopening, consumers continue to cook more meals at home – to save money and because they find they really do enjoy cooking at home.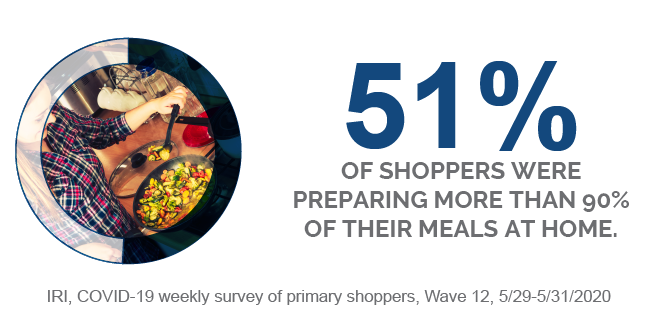 With this shift toward cooking at home, grocery retailers are becoming a more stable part of family lives. Consumers are looking to grocers for their guidance and for inspiration on what to put on the table each night. As restrictions continue to ease, consider how you can use this behavioral change to keep consumers engaged. Sharing recipes and cooking tips on social channels, providing meal solutions, or even having cooking demos (virtual or in-store) can keep the grocery store top of mind when it comes to making dinner decisions. There's even an opportunity here to partner with local chefs or restaurants to merchandise restaurant favorites that are difficult to make at home, which can draw in new customers and enhance the store's presence in its community.
How do all these changes in behavior come together to give us an updated picture of the consumer? In 2019 Midan released our Meat Consumer Segmentation 2.0 research which highlighted attitudes and purchase behaviors of meat and poultry consumers. In September, we revisited that research to determine if the distribution of the meat and poultry consumer segments had shifted.
In 2019, the largest segment was Convenience Chasers, with 30% of meat consumers falling into this category. These are shoppers who are looking for convenience first and who are price-conscious, use coupons and seek out promotions. They are often time-pressed and looking for easy meal solutions. Given COVID-19's effect on food prices and the rise in at-home responsibilities for many families, it's no surprise that this is the segment that grew the most this year. Our September survey found that now 39% of the meat-consuming population falls into this category.5
The other segment that grew during the pandemic was the Protein Progressives. Previously comprising 16% of the population, this group of kitchen experimenters now accounts for 20% of consumers. These consumers likely tried their hand at sourdough bread in March and maybe even smoked their first backyard brisket over the summer. This segment loves all proteins, especially meat, but are adventurous in their eating habits, leading them to increasingly replace meat with plant-based proteins.
The Family-First Food Lovers segment stayed relatively the same over the last year, while the proportion of Aging Traditionalists and Wellness Divas slightly decreased.5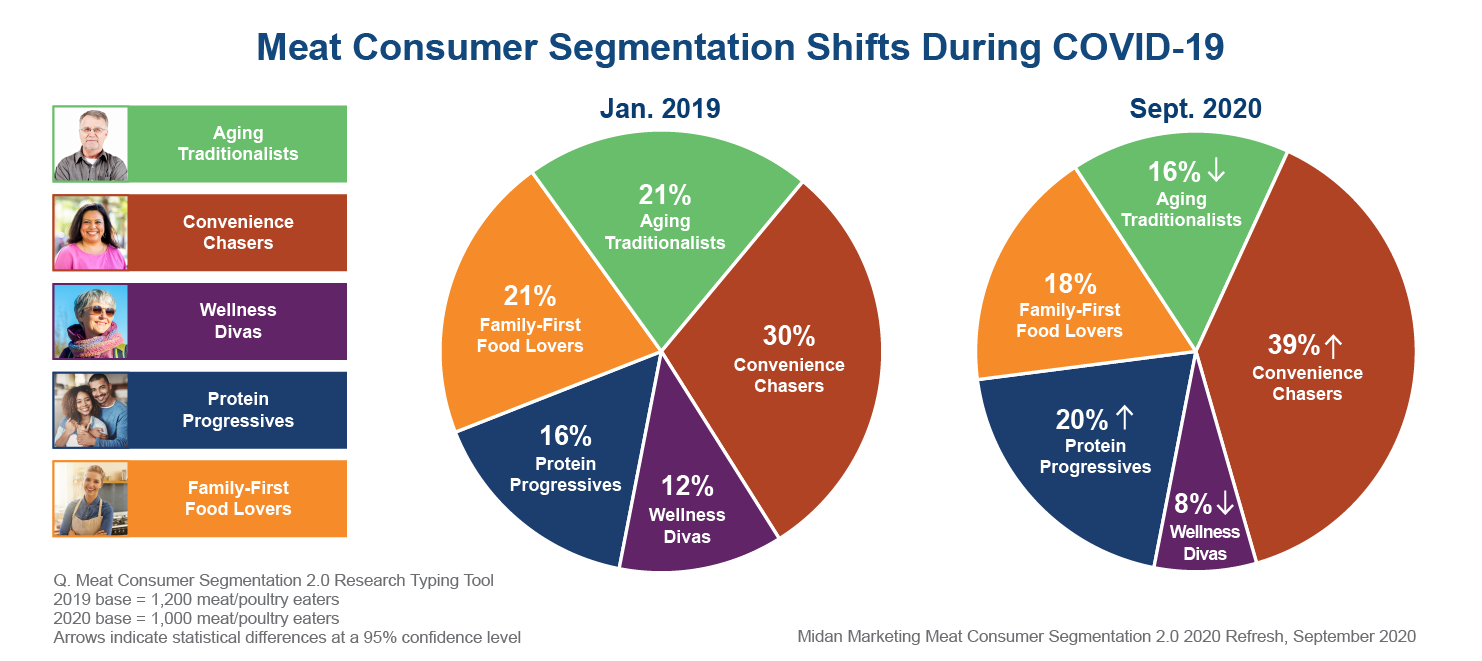 If 2020 has taught us anything, it's the importance of being nimble and able to react quickly in times of change. But as professionals, it's also our job to plan for what we think the next year will bring. And now is the time to do that. Consider your customers and how they have changed – what are their priorities and how has COVID-19 affected them? What brand and product messaging aligns with their attitudes toward food? How can you cement a place in their lives? These are the questions that will help you turn 2020's grocery sales spikes into continued business. 2021 won't bring a reset button, but with any luck it won't bring a spike in cases either. As things normalize, we can learn more about consumers' new attitudes and behaviors and work hard to earn the business 2020 brought.
1 IRI, MULO, 28 weeks ending 9/6/2020
2 Midan Marketing COVID-19 Survey, September 2020
3 IBM 2020 U.S. Retail Index, August 2020
4 IRI, COVID-19 weekly survey of primary shoppers, Wave 12, 5/29-5/31/2020
5 Midan Marketing Meat Consumer Segmentation 2.0 2020 Refresh, September 2020
This content originally appeared in The Shelby Report.
Get additional COVID-19 Insights here