In the meat industry, thought leadership is a challenging goal. After all, perceptions of protein and the food supply chain are constantly shifting. It's understandable that companies want to play a part in lifting positive sentiment, helping consumers believe in the value of meat. Where to start and what to say (that hasn't been said before) is a challenge we frequently guide our clients through, especially when it comes to digital marketing. Enter the many social media platforms. As we look at the conversations taking place on various channels via social media listening, we have found that Twitter carries an overwhelming amount of chatter about plant-based protein alternatives. So how can you incorporate a Twitter strategy that will help you effectively join the key conversations where they're happening and gain points in thought leadership? Here are some steps we recommend to get started.
Social Listening – Find Out What's Really Being Said
First, to be impactful and strategic when developing thought leadership content and comments, you have to know what's being said. Insert social media listening: an automated process used to monitor social media channels to observe what people are saying about your brand, your industry and so much more. This gives you the inside scoop on what to talk about and a temperature read on how to talk about it.
Through our social monitoring, our Midan Marketing team found that over the last year, there were more than 321k social media mentions for plant-based protein alternatives on Twitter. The team discerned that the majority of conversations about protein, in general, centered on plant-based protein alternatives, with beef and pork taking a backseat in the conversation. We used this analysis to recommend that for the meat industry to stay vigilant in showcasing the value of animal proteins, we must join the conversations to call out misconceptions and promote the value of real meat.
Twitter's Role in Building Strong Media Relationships
When you're thoroughly reviewing social media conversations, it's clear to see why Twitter is the place to be – after all, it has easy-to-use search functions and real-time conversations move quickly. On Twitter, you can engage with publications you've dreamed of landing placements in, industry leaders you want to rub elbows with and consumers you want to woo. Just don't forget that most of those conversations are public. That means you can directly influence public sentiment, positively or negatively, through these interactions.
For example, using Twitter to communicate with editors provides an opportunity to build a relationship that can lead to better and deeper conversations on your topic or brand. Twitter conversations can also be the tipping point in increasing market penetration in new regions as you talk with B2B decision-makers, as well as encourage consumers to learn more about your brand. To see these successes, you'll want to monitor these conversations closely using social listening tools, take a proactive approach to joining them and most importantly, remain positive. Let's talk about the true power of positivity on Twitter.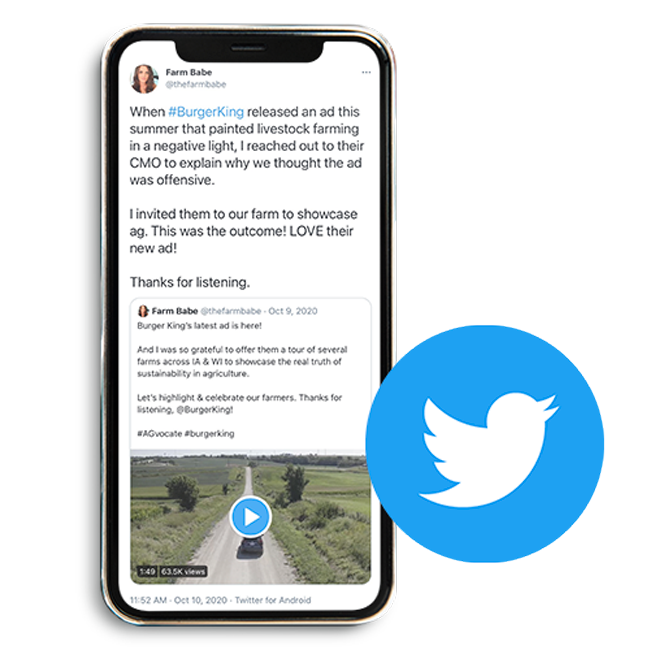 Traditional protein has been 
under attack for several years
and our best chance at spreading facts and curbing misconceptions is to not join in the mudslinging. Instead, we recommend using the influential power of social media for good. Take a look at this Twitter success story from Michelle Miller, aka
@thefarmbabe
: inviting Burger King® for a farm tour to dispel myths about sustainability in agriculture, while introducing a positive narrative that made a major player in the beef game sit up and take notice. These are the conversations you want to be a part of! For more tips on social media for the meat industry, take a look at our
handy 101 guide
, developed by our in-house social media and content marketing experts.
Tips on Using Twitter Proactively
Just as @thefarmbabe did by directly reaching out to the media, we have to be brave (and prepared) enough to expand our audience outside of the industry contacts we communicate with. Social listening is the key to widening your reach and adding value. Your findings from listening should be the focal point of your always-evolving communications plan in order to best engage publication editors and thought leaders. This can sometimes present an interesting challenge if you don't agree with a viewpoint and decide to comment. However, that's where a strong, disciplined approach pays off. On topics you want to expand on and be considered a thought leader in, we recommend preparing some key responses that convey your viewpoint and why you are positioned to respond to the topic. The key: take the high road — always.
New social media platforms continue to pop up, but we encourage you to continuously evaluate each with your best judgment. Both public relations and social media channel strategies can often change. Social listening will help you to evolve right along with your audience. Right now, important conversations about meat are taking place on Twitter with your target audiences — listen carefully, plan strategically, then jump in to begin building your path to thought leadership.