This year, many Americans are hoping for a normal fall and holiday season. Vaccinations have helped many people feel more comfortable traveling and gathering again. As virus waves and variants come and go throughout the country, many retailers find they're still having to adjust and pivot. No matter what consumers are experiencing though, it's important to keep convenience in mind for shoppers preparing to gather again.
During the COVID-19 pandemic, Midan Marketing saw a shift in meat consumers. According to our Meat Consumer Segmentation research, Convenience Chasers, the segment of consumers who prioritize convenience and price, increased from 30% pre-pandemic to 39% in September 2020.1 This shift toward convenience will be important for retailers to consider as adults return to offices, children return to school, and friends and families make time to be together.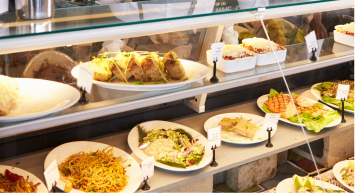 Grab-and-go offerings, like hot retail foodservice items, were shut down at the beginning of the pandemic in many stores but could be the saving grace of many shoppers this fall. Having prepared meal options can mean that instead of ordering restaurant takeout on the way home, they are choosing an option from the retailer. In addition to being good for grab-and-go dinners, hot retail foodservice items are also typically good choices for last minute tailgates or weekend get togethers.
Some consumers will take their desire for convenience into the holiday season as well. While some will make full meals from scratch, others will likely gravitate toward heat-and-eat options – for their whole meal or perhaps just the sides. Full catering, including the main dish, will be the option some convenience shoppers choose this year. Having a variety of convenient options available for customers – and
advertising them in-store as well as online or on your grocery app
– will help keep consumer dollars coming to the retailer rather than being diverted to foodservice.
Speaking of the holidays, planning for another unpredictable year can be tough. Last year, smaller holiday gatherings meant a run on smaller turkeys and cuts of meat. While we expect more larger gatherings this year (and therefore larger cuts of meat), price is likely to still be a factor.
"Typically during the holiday season, there are two proteins that buyers are most interested in – bone-in ribs and tenderloins," explained Michael Farrand, global head of food for DecisionNext. "Our predictive analytics platform confirms as of late July of this year, bone-in rib prices for retailer buyers will see their usual peak in December. This will be similar timing to last year, though quite possibly not as high of a spike."
Hopefully a lower spike in prices will bring somewhat of a reprieve to consumers' wallets this year.
Another COVID-19-influenced trend we expect to see around this year's celebrations is that of premiumization. During the pandemic, IRI noted that customers of all income levels were trading up to more premium items across the store, including at the meat case.2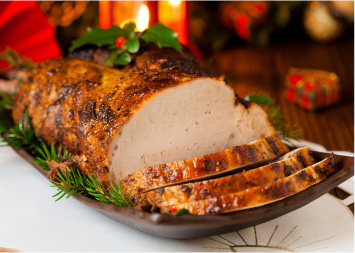 "There is not a single, clear-cut definition of 'premium' across fresh protein categories," said Erkin Peksoz, IRI consultant. "Price-based, claims-based (organic, non-GMO, feed claims, etc.), brand-based and cut-based approaches are all possible."
When taking a cut-based approach to premium, holiday favorites like beef tenderloin and ribeye are some of the definitive meat cuts. For this study, IRI defined premium beef as any cut with an average price per volume of at least 1.25x the entire fresh beef category. Using this measurement, tenderloin is the most premium cut, with an average price three times more than the average of fresh beef; ribeye comes in second at 1.86x the category average.3
"We expect premium meats to play a big role in this season's holiday meals," explained Chris DuBois, SVP, protein practice leader at IRI. "Proteins other than turkey earned their spot at the holidays last year as celebrations were smaller. We expect that to continue this year and into the future."
The trend toward premiumization goes hand-in-hand with an increase in consumer confidence and knowledge of meat. During the pandemic, 63% of meat consumers reported being at least a little more confident and knowledgeable about cooking meat than they were pre-pandemic.4 This means more consumers are trying new cuts, larger cuts and – in some cases – specialty cuts.
Whether your customers are looking for convenient meal offerings or premium meat cuts, it's important to make your store a destination. Offering ready-to-eat meal options can save consumers time and hassle after they finish shopping. Cross-merchandise your heat-and-eat side dishes alongside the turkeys and holiday roasts to make it easy for shoppers to find everything they need. Consider offering pre-made or easy to put together
charcuterie boards
for an easy, yet festive appetizer. If your customers are confident cooks, stocking more specialty meat cuts during the holiday season may keep shoppers from turning to specialty retailers or the internet in search of the meat they're looking for.
1
Midan Marketing, Meat Consumer Segmentation 2.1, September 2020.
2
IRI, Consumer Purchasing Behaviors: What Is Here to Stay? AMC Presentation, March 2021.
3
IRI Market Advantage (POS), MULO, 52 weeks ending 7/11/2021.
4
Anne-Marie Roerink, Principal, 210 Analytics LLC, The Power of Meat 2020 Midyear: An In-Depth Look at Meat Through the Shopper's Eyes, Report sponsored by Sealed Air Food Care Division/Cryovac® and Published by Food Marketing Institute Foundation for Meat & Poultry Research & Education.
This content originally appeared in The Shelby Report