The past several months have created millions of more confident home cooks, many by necessity. With restaurants and office buildings closed, American consumers have been spending more time at home and in the kitchen.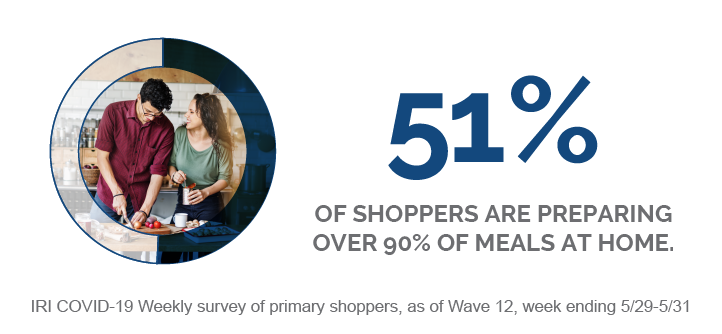 According to
Midan's July COVID survey of meat consumers
, 61% are experimenting with different ways to cook meat and poultry more than usual – and this number has been on the rise since April.
2
But as the pandemic drags on, shoppers are feeling uninspired. Nearly half of U.S. shoppers say their biggest challenge in the kitchen is coming up with new meal ideas.
1
With consumers looking for inspiration, grocers should seize the opportunities for cross-merchandising, particularly between the fresh meats and produce departments.
Meal Solutions
One growing opportunity for retailers to pair fresh meat and produce is meal solutions. The Midan Marketing consumer insights team has defined meal solutions as any single package with a protein (whether meat, poultry or a vegetarian substitute like beans), a side dish and a recipe. Conventional meal kits are part of this category as they contain those items plus any spices, seasonings or sauces needed to complete the meal.
In brick-and-mortar stores, Tyson has dominated this category for years with its Slow Cooker Creations and Tastemakers product lines. In 2019, Tyson branded products accounted for 86.8% of the dollars made in this category.3 But as grocery chains acquired online meal kit brands or created their own meal kits in store, shoppers reacted positively and started reaching for these pre-planned yet home-cooked meals.
When COVID-19 hit and brought with it the need for consumers to eat most of their meals at home, the meal solutions category saw a major boost, mostly within the smaller competitors.
Pandemic driven shifts to increased home cooking pushed the already strong performance of meal solutions even higher," explained IRI Consultant Erkin Peksoz. "The category's 29.2% year-over-year dollar sales growth observed in 2019 skyrocketed to 52.2% during the second quarter of 2020.3 Challenger brands HelloFresh and Local Crate both increased their dollar shares significantly during the pandemic."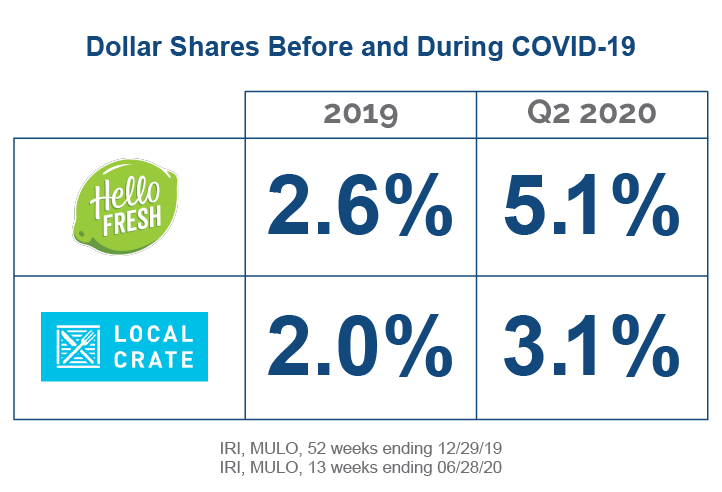 In addition to offering a branded meal solution, grocers have started to investigate the option of creating these kits in-store. With salad bars and other self-serve stations temporarily closed, the floor space already exists – often between the fresh meat and fresh produce departments – to create a spot for meal solutions.
Meal solutions may also reduce the number of missing items in grocery pickup or delivery orders by packaging all the items together. When dissatisfied customers were asked in Midan's July COVID-19 survey why they wouldn't recommend these services, many responded with a version of, "Because I've had items missing out of my order…"2
While refunds are reasonable, what shoppers really want is all the ingredients they need to cook their dinner – making meal solutions an attractive option for avoiding this issue.
In-App and Online
Delivery and click-and-collect services are growing in popularity amidst the pandemic.5 In July, Midan's research showed that 33% of meat consumers have purchased meat for pick up from a local grocery retailer and 21% had used a retailer's delivery service.2 With this increase, it's time for retailers to find ways to cross-merchandise and provide meal inspiration in-app and online.
Many grocery apps, including Instacart, already include a "Frequently Purchased With" section to help with cross-merchandising. If within the app, "USDA Choice Beef Round Chunks" automatically recommends fresh mushrooms, bell peppers, zucchini and wooden skewers, the shopper can grab all the ingredients needed for their steak.
An even stronger opportunity exists on grocery retailer's websites. Allowing shoppers to browse a selection of recipes online provides the inspiration they're longing for, plus more cross-merchandising. By integrating recipes with the online ordering system, shoppers can easily "Add All Ingredients to Cart," solving mealtime in two clicks.
If you're not already, consider sharing meal inspiration on your social media channels as well. A Google Trends search shows that the search phrase "recipe" has soared during COVID, with an even higher number searching for recipes specifically on Facebook.6 Take advantage of this opportunity to share with your customers exactly the kind of inspiration they're searching for.
Takeaways
The fresh meat and produce departments have always been the primary selection drivers at retail stores and the pandemic hasn't changed that. Bringing the two together as a convenient and time-saving meal solution can make getting a fully organized meal on the table easier. Consumers have honed their cooking skills for the past several months and many will continue to cook at home more often, even once the country has found its new normal. By tapping into opportunities to cross-merchandise fresh meat and produce, grocery retailers can be the inspiration shoppers are looking for in the kitchen.
1 IRI COVID-19 Weekly survey of primary shoppers, as of Wave 12, week ending 5/29-5/31
2 Midan Marketing July COVID-19 Wave 5 Survey
3 IRI, MULO, 52 weeks ending 12/29/19
4 IRI, MULO, 13 weeks ending 06/28/20
5Brick Meets Click, June 2020 Online Grocery Scorecard: Growth in Sales & HH Penetration Continues.
6 Google Trends, 52 weeks ending August 11, 2020
This content originally appeared in The Shelby Report.
Get additional COVID-19 Insights here