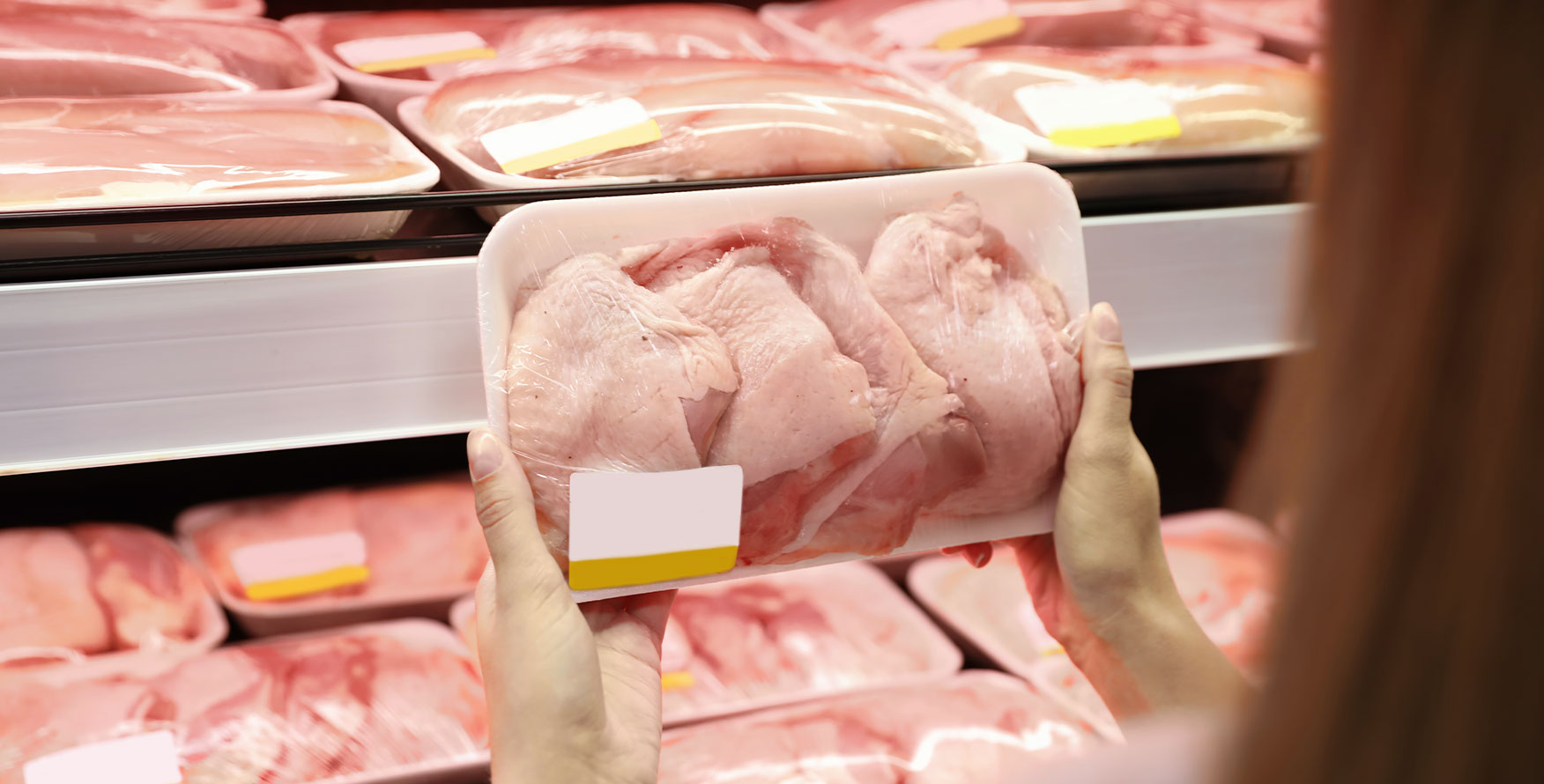 I may be a beef girl at heart, but poultry is still a staple in my home. Living in rural Alabama, I pass miles of chicken houses on my way into town and can't help but marvel at how different chickens are from the cattle I'm familiar with. One thing I've never questioned about poultry: Consumers love it. And little gets me as excited as learning more about our meat consumers.
Midan's Meat Consumer Segmentation 3.0
research released earlier this year is a snapshot of today's meat – and poultry – consumers. Today, I'm diving into what our study reveals about today's poultry eaters.
To qualify for this research, a shopper had to have purchased beef, pork, chicken or turkey to eat at home at least once in the past three months. The vast majority purchased protein way more than once per quarter, but that was the baseline to establish our meat and poultry consumers. Nearly all the survey respondents had eaten chicken in the last three months – in fact, 94% of them. Chicken was the most regularly consumed of all the proteins we asked about. The outcome of this research was five new meat consumer segments – ways to group consumers together based on their attitudes and habits when purchasing and eating meat and poultry. See the chart below for descriptions of each segment.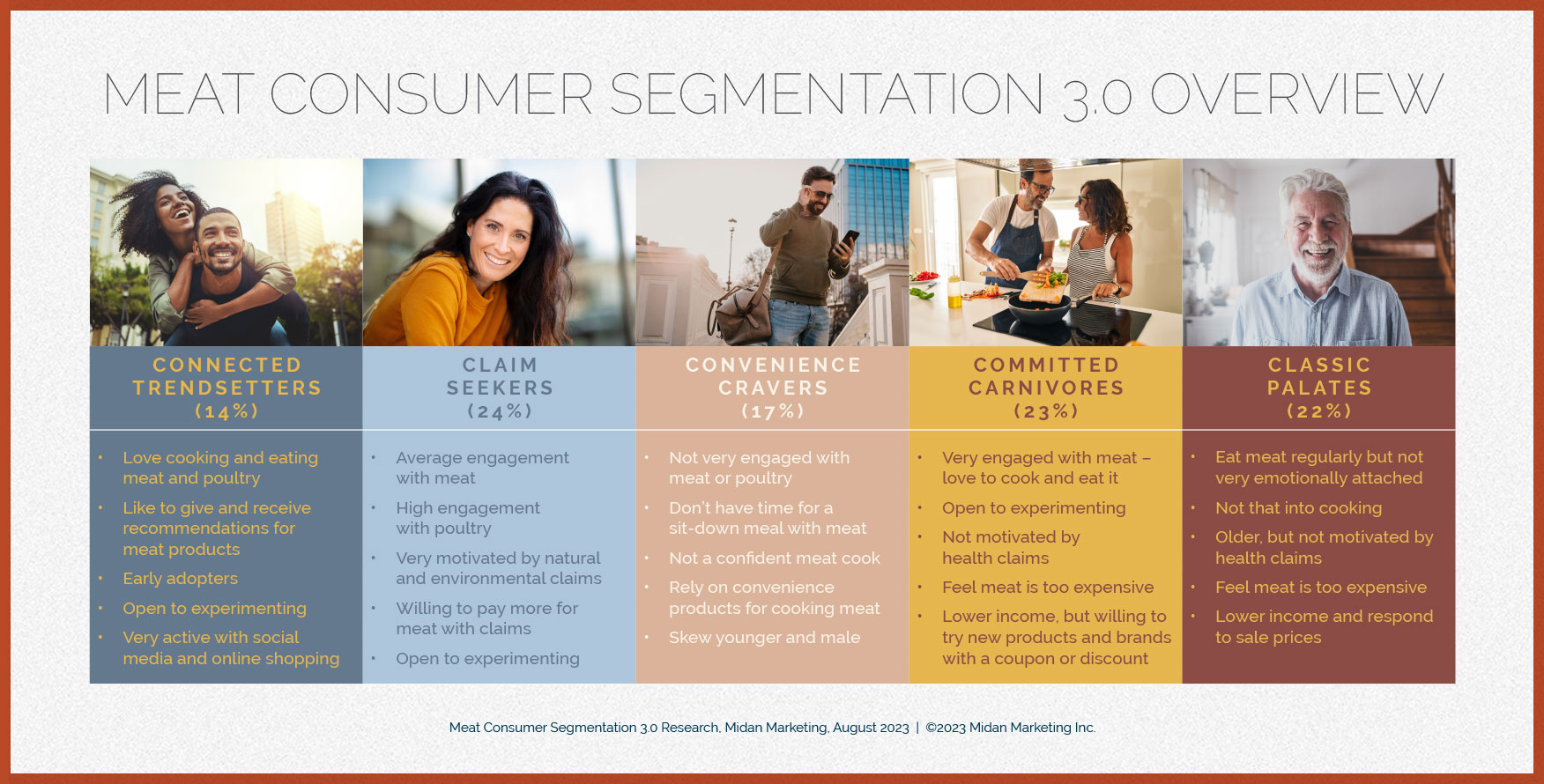 Chicken Beats Out Beef, Pork and Turkey
Back to poultry consumption… If you're like me, you shop once a week and it's easier to think about consumption on a week-to-week basis. Well, 91% of consumers eat chicken at home at least once per week. Compare that to the other proteins: 73% eat ground beef, 66% eat whole muscle beef, 51% eat pork and 29% eat turkey at home during the typical week. Chicken is by far the most consumed protein and, interestingly, consumption of chicken is pretty steady across segments.
Price and Ease of Cooking Drives Up Chicken Consumption
Chicken consumption is also increasing. When asked why they're eating more chicken, consumers highlighted numerous ways they think chicken is succeeding over other proteins. For example, 58% of those eating more chicken said one of the reasons is because chicken is affordable – and significantly more consumers thought that was true of chicken than any other primary protein. Chicken was also deemed quick and convenient to cook by 47% of those eating more – a quality chicken shares with ground beef (48%). On the retail side, 31% of consumers say they're eating more because chicken has good promotions – something consumers feel it shares with pork (25%).
Chicken Eaters Have Branding Preferences
One area where we start to see some differentiation between segments is when we ask about branding. Overall, 36% of consumers prefer a national or manufacturer brand for their chicken, 29% prefer a private label or store brand and 4% prefer an unbranded product while 31% didn't have an opinion.
However, Connected Trendsetters have a strong preference for brands with almost half looking for manufacturer brands and 36% looking for private labels. Claim Seekers and Convenience Cravers also have preferences here. Half of Claim Seekers prefer a manufacturer brand and 40% of Convenience Cravers are looking for private labels. Turkey is similar with 40% preferring a manufacturer brand, 20% preferring private labels and 3% preferring unbranded products. Here again, Connected Trendsetters have a preference toward brands (both manufacturer and private label) while Claim Seekers are drawn to manufacturer brands specifically.
Attitudes About Chicken Vary Between Segments
Our research also captures how consumers feel about meat and poultry. And their attitudes toward proteins have a big impact on which segment consumers are sorted into. Among all meat consumers, 82% say poultry is something their whole family enjoys. This simple statement has a lot of variances between segments, though. More than 90% of Claim Seekers agree with this statement while only 52% of Convenience Cravers agree. About 80% of meat consumers say they eat poultry because it tastes good and that it's easy to cook. For both of these statements, too, only about half of Convenience Cravers agree. (Note to self: stick to beef when hosting my Convenience Cravers friends!)
Whether we like it or not, poultry is up against beef and pork in the meat case and consumers find themselves choosing between them. A little over half of consumers say poultry is the main dish of most of their meals, including 76% of Connected Trendsetters. Some consumers (54%) also think poultry is healthier than beef or pork; Connected Trendsetters and Claim Seekers are much more likely to agree with this statement than Convenience Cravers or Classic Palates. There are also huge differences between segments in attitudes like who looks for poultry with no added hormones (Connected Trendsetters and Claim Seekers) and those who absolutely won't pay more for organic chicken (Committed Carnivores and Classic Palates).
Consumers aren't necessarily looking for the same things from their poultry as they are from their red meat, and not all chicken eaters are created equal, as our meat consumer segments indicate. Understanding the full spectrum of consumers' protein decisions is imperative as each protein competes for the center of the plate. Knowing how and why consumers choose one product over another is the first step in being able to create products, branding, marketing and messaging that resonate with today's meat and poultry eaters.
And that's your poultry update from a beef girl in the heart of chicken country.